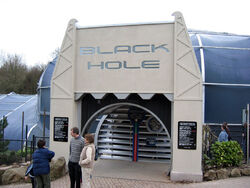 Black Hole was an enclosed steel roller coaster at Alton Towers in Staffordshire, England. It operated from 1984 until 2005. The coaster was located within a huge silvery black tent (formerly green and yellow) that ensured the ride took place in total darkness. The ride stood in the X-Sector area of the park.
The coaster itself was a Jet Star II, designed by Anton Schwarzkopf. During the time that the ride operated, the park also operated an outdoor Jet Star III, the Beast.
The Black Hole was constructed in Fantasy Land for the 1984 season taking the place of the "Dinosaur Land" attraction which was then moved into storage. It was loosely themed around space exploration.
In 1985, a number of changes were made. Firstly, the bottom of the first drop was modified slightly to make the ride run more smoothly. An oil-based smoke machine was added, but it was found that this sped the ride up too much. As a result, it was changed to a water-based smoke machine. When the ride first opened, the ride was completely dark. However, lights were added to the lift section of the ride, so that riders were able to brace themselves for the first drop. For the 1988 season, the coaster was dismantled and transported to Europe, where it had an overhaul, which then allowed the ride to use dual car trains. The reconstructed coaster, complete with a overhaul of the internal special effects, then operated briefly as "New Black Hole", and then from 1989 it operated as "Black Hole II" before reverting to the original name.
In 1998, the opening of Oblivion in the area brought about the redevelopment of Fantasy Land into X-Sector; the Black Hole was integrated into the new themed area with another refurbishment. The colouur scheme of the original tent was changed from yellow and green to solid deep blue, with a new entrance in the style of X Sector. Inside, the ride retained its theme of space but received a newly designed queueline and station with steampunk architecture. However, the ride became costly to maintain and out of date with the rest of the theme park, leading to its closure in 2005.
The interior was left relatively untouched until the coaster track was dismantled and sold off in 2007. At the time of its closure, there were no plans on what to do with the now redundant area, so the building that once housed the ride was never removed. In 2013 the new ride to replace the Black hole was announced as "The Smiler", to open on the 31st of May 2013